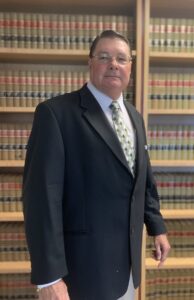 Biographical Information and Background
​
Mr. Gregory was born into a Miami family whose roots go back to the City's early years in the 1920's. He is a graduate of Christopher Columbus Preparatory High School, where he was Vice President of the Student Council and then he obtained a Bachelor Of Science degree at Florida State University, where he was Vice President of Pi Kappa Alpha Fraternity while he studied Business Administration concentrating in the areas of Marketing and Finance. Mr. Gregory then attended the University Of Miami School Of Law in 1980 where he was Vice President of Phi Alpha Delta Law Fraternity, International, of which he remains a member today. Mr. Gregory graduated from Law School in 1983 and then moved to Bogotá, Columbia to pursue a career in International Banking; however, due to the negative effect of narcotics on the banking industry in those days, Mr. Gregory returned to Miami to take the Bar Exam and then began practicing law. Initially, Mr. Gregory worked for small law firms in the Miami area that handled various areas of law, inclusive of, but not limited to divorce matters, landlord-tenant matters, real estate closings, name changes and other common legal issues. Mr. Gregory's father, Robert H. Gregory, was an attorney who practiced Workers' Compensation Law in Florida for greater than 50 years and so Mr. Gregory went to work with his father and greatly benefited under the knowledgeable tutelage of his experienced father during 16 years of practice together, but when his father retired, Mr. Gregory began his own law firm primarily concentrating on Workers' Compensation cases. Mr. Gregory has handled all aspects of Workers' Compensation cases including, but not limited to representing indigent Claimants, Beneficiaries of Claimants, Employers, Insurance Carriers, Third Party Administrators, uninsured Employers, self-insured Employers, etc. Additionally, for the past decade or more, Mr. Gregory has also represented Professional Employer Organizations and their Client Companies, which includes virtually every type of business one can conceive of – such as day laborers, tow truck drivers, construction workers, painters, electricians, plumbers, garage door installers, etc. Mr. Gregory is an experienced Litigation Attorney, who has tried numerous Workers' Compensation cases – and is an experienced Appellate Lawyer in the area of Workers' Compensation Law, who has handled all of his own Appeals and Oral Arguments before the First District Court of Appeal. In his many years of practicing Workers' Compensation Law, Mr. Gregory has handled cases in virtually every jurisdiction in the State of Florida from Panama City down to Key West on the West Coast of Florida and from Miami to Jacksonville on the East Coast of Florida.
Professional, Social And Charitable Associations
​
Mr. Gregory is licensed by the Supreme Court of the State of Florida to practice law in Florida and is a member in good standing. Mr. Gregory is a member of the American Bar Association, the American Association For Justice (formerly The Association of Trial Lawyers of America), Phi Alpha Delta Law Fraternity, International and is a member of the Workers' Compensation Sections of both the Florida Bar Association and the Dade County Bar Association.
Mr. Gregory has been socially active in South Florida for many years. He was selected to be in the 1987 Class of Leadership Miami; he is past President of The University Club of South Florida and he is past President of the South Florida Emerald Society. Mr. Gregory has received Certificates Of Appreciation for his contributions to Big Brothers – Big Sisters of Greater Miami Mentoring Resourceing Center, from The American Cancer Society, from Miami-Dade Community College, from the United States Olympic Committee, from the Easter Seals organization, from the Disabled American Veterans and from Boys Town. He has also been recognized by The American Biographical Institute and recognized as a Personality of America. Furthermore, Mr. Gregory has been listed among Who's Who of Emerging Leaders In America and by Who's Who as an individual Who Has Demonstrated Leadership And Achievement In Their Occupation, Industry or Profession. ​
Mr. Gregory is AV Preeminent rated by Martindale Hubbell as having the "Highest possible rating in both legal ability & ethical standards reflecting the confidential opinions of members of the Bar and Judiciary", he holds the highest rating possible with AVVO, he has been rated as a "Top Lawyer In Florida with the highest in ethical standards and professional excellence" by The Legal Network and has been listed as one of the "10 Best Attorneys in Workers' Compensation" by the American Institute Of Legal Counsel.